There are several beautiful cemeteries in Franklin Township. Only the Lutheran Cemetery is active within the township. The others are closed or private cemeteries maintained by Franklin Township and residents. Contact Trustee Jay Clark for cemetery information.
Linnville Cemetery
This small cemetery is nicely mowed and trimmed, but the general condition of most memorials are very weathered and in either toppled or broken due to years of vandalism. The cemetery is located just behind the Linnville Community Church at the northeast corner of US Route 40 and Linnville Road (CR311). It extends northward along a narrow strip of land, near the edge of Linnville Rd. Many of the older stones are no longer readable, but would estimate the earliest burials took place in the early 1840's. There are a few newer style tombstones of granite material marking burials as late as 1928.
Hupp Cemetery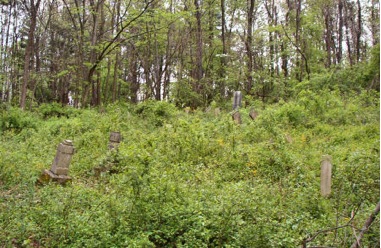 This cemetery was first associated with a Baptist Church located near state route 40. The cemetery was said to have been moved early in its history due to road improvements in the area. The land owner suggest that the cemetery was first established near SR40, and moved about quarter mile north, on a wooded hillside. The earliest readable stone found in this cemetery was dated 1814, so it's quite early in this area's history, being used for this purpose longer than many cemeteries in the area. It is situated on a sloping area of land, a few hundred feet below the southern ridge of a hillside. There are remnants of a farm fence, but most has deteriorated and fallen into the undergrowth. As evidenced by the 1814 tombstone found, it will quietly celebrate its 200th anniversary very soon. The owners of this land request that no one come to this cemetery site without first writing and getting permission first. You will probably not find the little cemetery unless the land owner or someone that has traveled there before accompanies you. Please respect the landowner's privacy and do not trespass. Mr. & Mrs. Ice were very gracious to allow me to post their email address, so that anyone wishing to visit this cemetery could contact them: This email address is being protected from spambots. You need JavaScript enabled to view it.. With the assistance of many helpful volunteers the area has been cleaned of brambles and ivy. Now most stones are again viewable and most can be read. There are a few that have deteriorated to point that we are no longer able to decipher the engravings, but most are still readable. The cemetery has a mix of sandstone, marble and at least one more modern granite marker. Wish to thank Elizabeth & Larry Bicking, Ada Gutridge, Carl & Ginny Gutridge, and Marilyn Norris for all their wonderful work in cleaning and gleaning the data from the tombstones.
Breese/Breeze Cemetery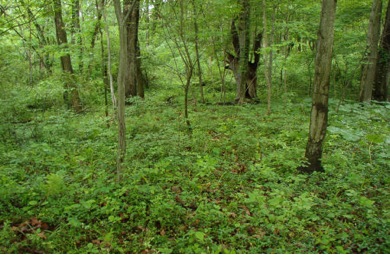 This little cemetery is located on private land, about ¼ mile down a private lane, on the north side of route 40, across, but near where Shelley Road connects with the State Route, east of Pleasant Chapel Rd., Franklin Twp., Licking County, Ohio. This parcel land is owned by Jim Hundley, the cemetery is situated west of his residence, near the edge of a densely wooded area. It's in a very peaceful area, with a small tributary meandering along near its western border. Please do not trespass, call the Licking County Genealogical Society and make a request to obtain permission before traveling there. The land owner was very kind to allow a few of us to visit this small family grave yard, but again please respect his family and their privacy, by not visiting before you have made arrangements and obtained permission. This very small cemetery is nestled about 50 feet from edge of wooded area. There is no evidence of there ever being a fence, but randomly surrounded by various sized field stone. It appears to be approximately 50 feet square, and contains only a few burial memorial stones. Having studied both the 1854 and 1875 map of this property, 1854, shows J. Breeze, owning 159 acres, this map was probably published after the death of Joshua, but 1875 shows the same land changed ownership to H. Breeze. The family surname has been found spelled Breese & Breeze. This cemetery is not far (as the crow flies) from Hupp-Hoskinson family cemetery, which is located near a ridge of a hillside on the next farm east of this land. The next farm east was owned by John Hoskinson family in 1854 and later by the D. Hupp, in 1875. Only 4 headstones are found, one footstone and three or four fragments of bases on this preliminary trip to this cemetery.
Ellis Chapel Cemetery
This cemetery has no sign at the entrance or gate area, located off the west side of the road in a little hillside glen, just west of 6600 Pleasant Chapel Rd. This is about 3 miles north of Linnville, OH. It is a Franklin Township owned cemetery. The burial ground is quite old, with many very old worn sandstone memorials that are no longer readable, but also contains few modern granite stones belonging to individuals with only birthdates inscribed. The cemetery may have been established near or over 200 years ago. It is also known as Ellis Cemetery. After researching a book called "History of Licking Co., O., 1798" by A.A. Graham & Co. Publishers, 1881. The book did make references to Ellis Chapel Church, no mention of the cemetery, but did note the Methodist Society was the first religious organization in Franklin Twp., about 1809 by John Siglar. By 1818, the first church, a hewed log building was erected on the site which served the congregation until being superseded by a new building in 1851. One of the early ministers of the society was Michael Ellis. All remnants of the building are long removed and forgotten. There is a private residence next to the cemetery and would be a guess that this may have been the original site of the church. The burial ground is quite old, as there is very early death dates (1810's) inscribed. It's surrounded by nice antique wrought iron fence which is in good repair.
| | |
| --- | --- |
| | |
Lutheran Cemetery
Click here for Lutheran Cemetery Rules and Regulations.
This nicely cared for cemetery is located on a steep hillside on CR311 (Linnville Rd.), north of Flint Ridge Rd. (CR312) about 3 and half miles north of Linnville and SR40 (National Road), in Franklin Twp., Licking Co., OH. The cemetery is quite old, has readable memorials, early as 1830, and still in use to this date. Divided into several tiers, with drive way lanes dividing across each section, leading up and encompassing the outside peimeter. The upper area provides a dizzying but impressively beautiful view of the lower sections and valley below it. The church is located high on a hillside across the road from the cemetery. Many of the early tombstones are made of sandstone and no longer readable due to excessive deterioration.
There are full lots (1 full lot equals 4 graves) and half lots (equals 2 graves) available for $800 for a full lot and $400 for a half lot for residents and $1,500/$750 for non-residents.
Photos and Cemetary descriptions courtesy of Robert M. Sizelove, Sr. & OHGenWeb Tombstone Project